Prayer Shawl Ministry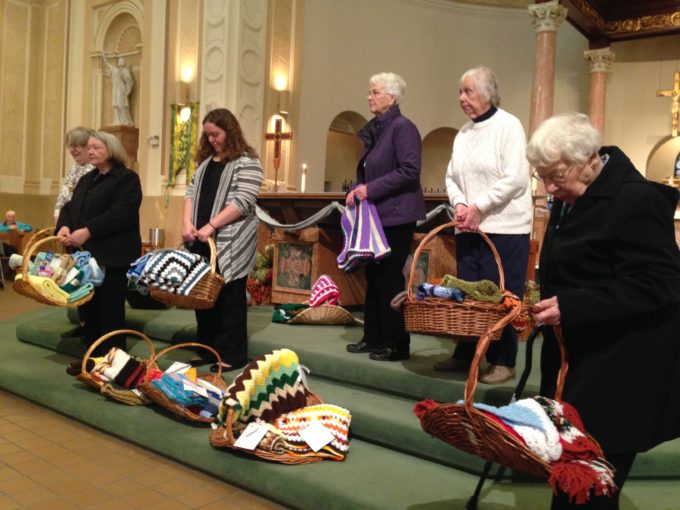 The Prayer Shawl Ministry began in 2005 as an extension of the Ministry of Care. Members lovingly and prayerfully knit and crochet shawls for those who need additional comfort, for example, if they have recently suffered the loss of a loved one, are ill in the hospital, or are recuperating from an injury or illness. Shawls are blessed at each monthly meeting prior to being given to the recipient. Shawls are always available on request at the rectory, are routinely brought with ministers of care when they visit hospitals and nursing homes, and are made available after masses at church for select events (including the Domestic Violence Awareness Mass and the Prayer Shawl Blessing Mass.
The ministry has expanded in recent years to make baby blankets, which are sent to ABLE Family Ministries in West Virginia, a ministry affiliated with the Congregation of St. Joseph. We also have shared baby blankets with the La Grange Community Nurses Association when they host baby showers for local mothers in need.
In 2016, we began making warm winter scarves to share with the SFX BEDS program and Food Pantry.
The following opportunities exist for involvement in this ministry:
– If you know how to knit or crochet, or would like to learn in order to become involved, join the ministry! We meet monthly from September through May at the rectory. Many members contribute on their own from home as well – meetings are not required. Please see the contact information below.
– Donate supplies: soft clean yarn in a variety of colors (preferably worsted weight or similar) are used to make the shawls, baby blankets, and scarves. Colorful fabric ribbon is used to affix prayer cards to the handcrafted items.
– Make a monetary contribution to purchase supplies.
– Keep all ministry members and recipients in your prayers.
Interested in being a part of the Prayer Shawl Ministry? Please join us!
Meeting dates are below; all meetings are at 7 pm in Unity Hall:
September 26, 2018

October 24, 2018

November 28, 2018

*No meeting in December*

January 23, 2019

February 27, 2019

March 27, 2019

April 24, 2019

May 22, 2019
For more information or to join the Prayer Shawl Ministry, please email Sarah Zavala or call 708-261-3473.