Confirmation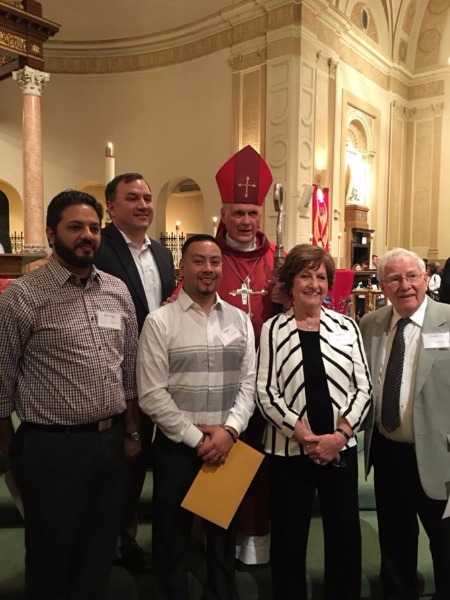 Pictured above with Bishop George Rassas are: George Govea, Bill Sorenson, Luis Aguilar, and Barbara & George de La Van. Congratulations! April 22, 2016
"By the sacrament of Confirmation, [the baptized] are more perfectly bound to the Church and are enriched with a special strength of the Holy Spirit. Hence they are, as true witnesses of Christ, more strictly obliged to spread and defend the faith by word and deed." Catechism of the Catholic Church 1285
Teens Seeking Confirmation
Confirmation at St. Francis Xavier Church is usually celebrated during high school. The high school students who wish to be confirmed are invited to participate in the Confirmation Program during the months of September through April of their freshman year. Details are listed on the Youth Ministry Pages of this website.
Adults Seeking Confirmation
St. Francis Xavier Church offers Confirmation Preparation for Adults as needed. The next opportunity for Adult Confirmation at the Parish will take place Feb - April, 2018.
To receive this Sacrament, one must be at least:
Age 18 (or, if younger, have the support of a youth minister or campus minister)

Baptized in the Catholic Church and have received First Holy Communion

If married, must be married within the Catholic Church. If civilly married, please contact Kate DeVries to discuss options for having your marriage blessed.

Please contact email Kate DeVries or call 708-352-0168 for details.

Adult Confirmation Preparation Schedule – 2018

Sessions will be held on Monday nights, Feb. 26, March 5, March 12, March 19, April 9, in Unity Hall. Sessions will go from 7:30 – 9:00 pm, with the exception of March 19, when we will gather at 6:45 pm, attend the Parish Reconciliation Service, and continue until 9 pm. Please also plan to be with us Fri, April 20, 7-8:30 PM in Church with your sponsor (if possible) for rehearsal. The celebration of Confirmation will take place in St. Francis Xavier Church on Saturday, April 21, beginning at 10 AM.

Registration is necessary. Please click this link: Registration Form: Adult Confirmation Preparation

Sponsor Information

A Confirmation sponsor is someone that the candidate selects who has been influential in supporting the candidate in their spiritual journey as a Catholic. A sponsor should be practicing Catholic, who has been fully initiated into the Church (fully initiated is someone who has received Baptism, Confirmation and Eucharist). If they are married, they should be married in the Catholic Church. The sponsor should also be someone other than the candidates mother or father. If the sponsor is unable to attend the day of the Confirmation ceremony, someone else can stand in as proxy for the sponsor.

Questions? email Kate DeVries, or call the parish at 708-352-0168.

A copy of the candidates baptismal and marriage certificate (if applicable) should be brought to the first session, Feb. 26.

Confirmation will be celebrated on Saturday, April 21, 2018 at 10 AM.