Baptism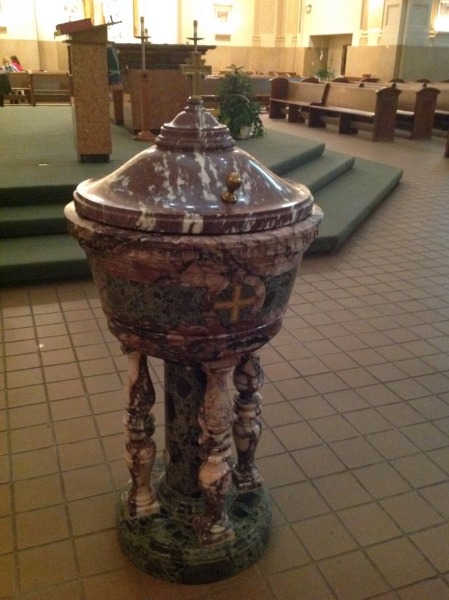 The Sacrament of Baptism signals the beginning of a person's special relationship with the Church. The Catholic Church welcomes people of all ages into our faith community–as a young child (Infant Baptism) or as an adult (the Rite of Christian Initiation of Adults, RCIA). If you are an adult seeking baptism, please click here: Rite of Christian Initiation of Adults, RCIA.
Infant Baptism
The love you feel for your child has moved you to seek baptism for your son or daughter. We welcome him or her into the Christian community with great joy! In seeking baptism for your child, you make a promise to serve as their first teachers in the faith and to journey with them. Through baptism, the Catholic Church commits to helping you nurture the relationship between your child and Christ, in the Catholic faith, throughout his or her life.
Preparing for Your Child's Baptism




We look forward to helping you prepare for the baptism of your child at St. Francis Xavier. The Archdiocese of Chicago requires that parents participate in one baptism preparation session before baptizing their child. The Baptism Preparation Classes at St. Francis engage parents in conversations about the faith they desire for their child. We discuss the history of baptism in the Catholic Church, considerations when choosing godparents, the rituals and symbols involved in the ceremony, and what to expect on the day of your child's baptism. We invite you to come with any questions you would like answered and a desire to meet other parents of young children in our faith community.
If this is your first child to be baptized, please contact the parish office at (708) 352-0168 to register for a Baptism Preparation Class. At St. Francis Xavier, we encourage participation in this class before the baby's birth or adoption. The classes are usually held on the 4th Thursday of every month at 7:30 p.m. If you have already had a child baptized at St. Francis, you are welcome to attend the prep class again, though it is not required.
Celebrating Your Child's Baptism
At St. Francis Xavier, we celebrate baptism on Sunday afternoons. The baptism ceremony begins at 1:30 p.m.

It is not a full Mass; it includes the Liturgy of the Word and an invitation to the child's family and guests to gather around the baptismal font for the rite of baptism.

Please call the parish office (708-352-0168) for scheduled Sunday baptismal dates.
The baptism ministry is coordinated by Matthew and Kathryn Kanzer. If you have any questions about baptism at St. Francis, please contact them here.
We look forward to celebrating this first Sacrament of Initiation with you and your family!