Becoming Catholic
RCIA is a process...
of questioning and conversation, for non-Catholics who wish to know more about the Church, and for Catholics who have not received the sacraments of Eucharist and Confirmation. The purpose of RCIA is not to complete a class requirement or to see how much information you can learn about the Catholic Church. Rather, RCIA is designed to help deepen your faith in God, and make you a stronger disciple of Christ.
St. Francis Xavier and our neighboring parish, St. John of the Cross in Western Springs, have combined efforts to present the best of our programs to participants. Leaders from both churches walk with participants throughout the process, and we meet in both parishes. If you have been thinking about becoming Catholic or completing your sacraments, please consider joining us.
Who participates in RCIA?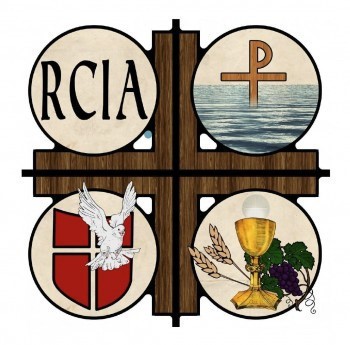 Unbaptized Adults

who are feeling called

to become followers of Christ by receiving the Sacraments of Initiation - Baptism, Confirmation, and Eucharist.
Adults Baptized as Christians

in another denomination, who are now interested in living out their Christian life in the Catholic Church. They are welcomed into full communion through a profession of faith and receiving the sacraments of Confirmation and Eucharist.
Adults Baptized Catholic

who are

seeking to complete their sacraments of initiation with the celebration of Confirmation and Eucharist.
What Is Involved? When Does It Start?

RCIA is comprised of 4 stages, each with a different focus, and a ritual to mark the transition.
Our journey begins Tuesday, Sept. 17 with the Inquiry period. We will meet weekly, Tuesday nights from 7 – 8:30 pm, to reflect upon how God is calling us and what it means to have faith in Jesus. There is plenty of time to ask questions and decide if this is the right step for you. Early in December, we celebrate the Rite of Acceptance and Welcome at a Sunday Mass, which publicly marks our desire to enter formation into the Church. Dates: Tues, Sept 17 - Sun, Dec 1; meets primarily at St. John of the Cross
Next is the Catechumenate period. Here we reflect on Scripture, and delve into Catholic beliefs, teachings, customs and traditions. To end this period, we celebrate another ritual: the Rite of Election. That Rite recognizes our progress of being formed in the faith and affirms our readiness to begin final preparations for receiving the sacraments. Dates: Tues, Dec 3 - Tues, Feb 25; meets primarily at St. Francis Xavier
The third period, Enlightenment, begins when Lent begins, on February 26, and includes gathering for Mass over the weekend. This period is reflective and prayerful, including special celebrations and rituals passed down from the early Church. Dates Feb 26 - Fri April 10; meets primarily at St. John of the Cross. We Celebrate the Sacraments and our full initiation into the Catholic Church at the Easter Vigil Service on Holy Saturday, April 11, 8 pm, the evening before Easter Sunday, at St. Francis Xavier.

The final period, called Mystagogy, is not the end, but rather the beginning of your life as a fully initiated disciple! We will gather a few times during the Easter Season (the 50 days after Easter) to help launch us into the next step of our faith journey and the rest of our lives as Catholic disciples of Christ. Dates: April 21-May 19; meets primarily at St. John of the Cross
What is the Goal of RCIA?
RCIA is all about conversion – growth and change taking place in our hearts and minds so that we can more fully live in relationship with God and each other. It is about deepening our faith, and exploring what belief in God means for our lives and how it is reflected in our actions. The purpose is not to check off a class requirement or to see how much information you can learn, but rather to assist you in becoming a living, breathing, active disciple of Christ!
A note for those with mixed feelings: We are all on a journey. Many of us come to this process with different experiences of life and faith. Your thoughts about starting this process might range from "Great! When can I start?" to "Gee, this seems like an awful lot!" Wherever you are on that spectrum, we are excited about and open to walking with you as you explore how God might be inviting you into a deeper relationship.
The RCIA process is definitely a commitment of time and energy, but each Easter we hear folks say it was time well spent and the months really flew by. We work hard to give you the experiences and tools you need to not only make this commitment of faith, but also to keep it!
If you are unsure this is the right step for you, you are not alone. RCIA at its best helps people find their way on their spiritual journey. If in that progress you discern this isn't the right fit for you, or not the right time, that is ok, too!
Words from a former participant: Nick Anderson, RCIA 2018-19
"I highly recommend the RCIA process at St. Francis Xavier and St. John of the Cross for anyone interested in learning more about Catholicism or becoming Catholic. The RCIA team is a very welcoming, open-minded, passionate group that cares about knowing you personally as much as they care about teaching you. I looked forward to Tuesday nights were I could be part of a strong community and learn more about the Church. The RCIA process was a huge benefit to me and to my wife, a lifelong Catholic who appreciated the "refresher" course as well."
Next Steps:
Let us know of your interest, and will will put you in touch with an RCIA Team Member. They will meet with you to share details about the process and answer any questions you might have. Email Susan Lindsay, or call 708-352-0168.