BoxTops for Education
BOXTOPS FOR EDUCATION

In 1996. General Mills wanted to create a program to help support education and benefit America's schools – and so, Box Tops for Education™ was born. As part of the initial test program, Box Tops were only available on select Big G cereals, such as Cheerios™, Total™ and Lucky Charms™.
The program was such a huge success that it soon launched on other General Mills products and expanded across the nation. The program now includes brands such as Pillsbury™, Old El Paso™, Green Giant™, and non-food brands such as Ziploc®, Hefty®, Kleenex® and Scott® products and more!
Something NEW! Going forward, instead of clipping from packages, all Box Tops will be earned digitally by scanning your receipt!

THE NEXT GENERATION OF BOX TOPS IS HERE.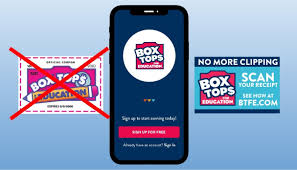 Box Tops is changing to fit today's families. The new and improved Box Tops mobile app uses state-of-the-art technology to scan your store receipt, find participating products and instantly add Box Tops to the SFX earnings online.
Be sure to download the new app from the Apple App Store or Google Play.
Register, enter your zip code and Select St. Francis Xavier School!
If you still have traditional Box Tops clips at home, make sure to send them to school! We will still earn cash for all clipped Box Tops until they expire.
Better yet, we can "double dip" during the packaging transition by clipping traditional Box Tops AND scanning your store receipt containing participating products.
Box Tops has been an impactful source of income for school resources.
Thank you for your participation!
WHEN: All Year Long!

CHAIR: Rachel Malone