A Message About Religious Education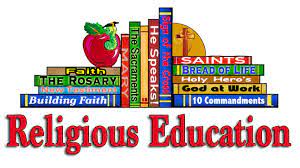 Thank you for your interest in the St. Francis Xavier School of Religious Education. All of us at St. Francis Xavier Parish have a special interest in each of our families. The purpose of the SFX Religious Education Program is to support parents in their roles as the primary catechists, or faith educators, of their children.
The 2022-2023 program will offer families two options:
We will offer a bi-monthly grade level in-person program held on Sunday Mornings or Wednesday afternoons and a virtual asynchronous grade level program with lessons being released bi-monthly on Sundays.
Families are strongly encouraged to also attend Mass weekly either in person or virtually.
We will also be hosting restaurant fundraiser nights throughout the school year and ask that families support those to the best of their abilities.
We hope to be able to host some social events and service projects, to share our faith and love of God with our children (kindergarten through 8th grade), and also to enhance the spirit of community throughout our parish family.
Registration for 2022-2023 is now closed. We will open registration for the 2023-2024 school year in mid March of 2023!