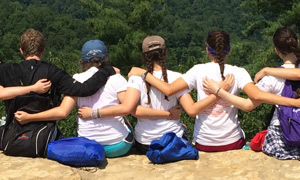 At St. Francis Xavier Parish, we are excited about our Youth Ministry program for our high school-age parishioners. What opportunities does SFX offer teens?
Our Teen Youth Ministry program offers a variety of opportunities to ALL teens in grades 9-12 including service projects, parish ministries, Church League basketball, the KAIROS retreat for juniors and seniors, and the annual summer mission trip to name a few. We currently do not have a youth minister, but there is a group of parent volunteers working to expand the Teen Youth Ministry group and programming to include monthly social gatherings and small group reflection groups. If you would like to join this group or would like to help in planning as a teen or parent.
Questions, please contact Elizabeth Cooley ehcooley@me.com or Sara Edwards saraedwards9@hotmail.com.
How is the Teen Youth Ministry program different from QUEST?
QUEST is the Confirmation Preparation program that teens participate in during the school year leading up to their Confirmation, typically their first year in High School (but other grades are welcome too!). QUEST falls under the direction of the Director of Religious Education and is run by parent volunteers with monthly meetings. QUEST participants are welcome to participate in ANY teen youth group activity as long as it doesn't conflict with their QUEST commitments.
My teen wasn't able to get confirmed during the pandemic, is it too late to register for a QUEST group? What are my options?
If your teen completed their 8th-grade year via the day school or through the religious education program, regardless of what grade they are in high school right now, there is still time to register for the Quest Confirmation program! If your teen did not complete their 8th-grade year of catechesis due to covid last year and is a 9th grader this year, they have the option of a "double enrollment" in our 8th grade virtual asynchronous RE class and then their 9th grade Quest group. Please email the Religious Education office to register or if you have any questions at sfxreligioused@sfxlg.org
The Teen Mass is on Sunday at 5pm This mass is focused on the teens of the parish. Particular efforts are made to create a welcoming atmosphere, relevant music, and an engaging homily that speaks to the issues in teens' lives. Teen Mission Paczki Fundraiser Thank you so much for your . . .