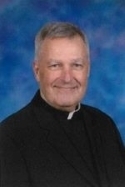 I am excited and grateful to be welcoming you to our website. I am the tenth pastor of this faith community and know of no better parish within which to pray, to deepen our faith, and to put our faith into action.
St. Francis Xavier Parish is a community of people who believe in being church that seeks communion in our rich diversity – from traditional to contemporary, and all ages, backgrounds, and experiences. We seek to live lives informed by the gospel of Jesus and fed by the Eucharist. We believe that Christ loves and embraces us in each moment, no matter what. We pray, with spirited liturgies, placing Eucharistic at the center of our shared faith life. We learn through our commitment to life-long faith formation in collaboration with St. Cletus and St. John of the Cross Parishes. We strive to shape disciples who develop and nurture a personal relationship with Jesus Christ through the parish Elementary School and School of Religious Education for children; QUEST for high school youth; the Rite of Christian Initiation for Adults seeking to join us; Adult Faith Formation for those at various levels of growing in their faith; and a Special Religious Education program (SPRED) for adults who learn in special ways. And we serve. Our prayer and learning send us out to live our faith in our relationships with family and friends and through parish ministries to the needs of people in our community and beyond.

Our 3200 households have great affection for this parish, which includes many multi-generation families, new families and many expressions of family. Parishioners describe St. Francis Xavier as a place where you are welcomed as you are. Our diversity may not be obvious at first in our ethnicity; yet we are far from a homogenous people. Parishioners are invited to engage and commit to serving the needs of one another, the local community, and the world. Our Ministry of Care to the homebound, the SFX Food Pantry, our annual youth mission trip and our Annual Parish Service Day are just a few examples.

Thank you for your interest in St. Francis Xavier! I hope that by exploring the pages of our website, you will find the information, opportunities, and faith community you seek. We look forward to your visit to St. Francis Xavier and, perhaps, your decision to continue your journey of faith with us.

God bless you and yours in your faith journey.
Peace,
Fr. Bill Tkachuk
Weekend Masses Saturday 8:30am and 5:00pm Sunday 7:30am, 9:00am, 11:00am and 5:00pm Weekday Masses Monday, Tuesday, Wednesday and Friday at 8:30am Rosary Thursday 8:15am Adoration Every 3rd Thursday at 6:00pm Reconciliation Saturday 9:00-10:00am . . .
Child sexual abuse is a worldwide public health issue. Child abuse, particularly child sexual abuse, is reprehensible–especially when the wrongdoer is affiliated with the Church. The VIRTUS ® programs assist the Church . . .