School Advisory Board
SAB - WORKING ON BEHALF OF OUR SCHOOL COMMUNITY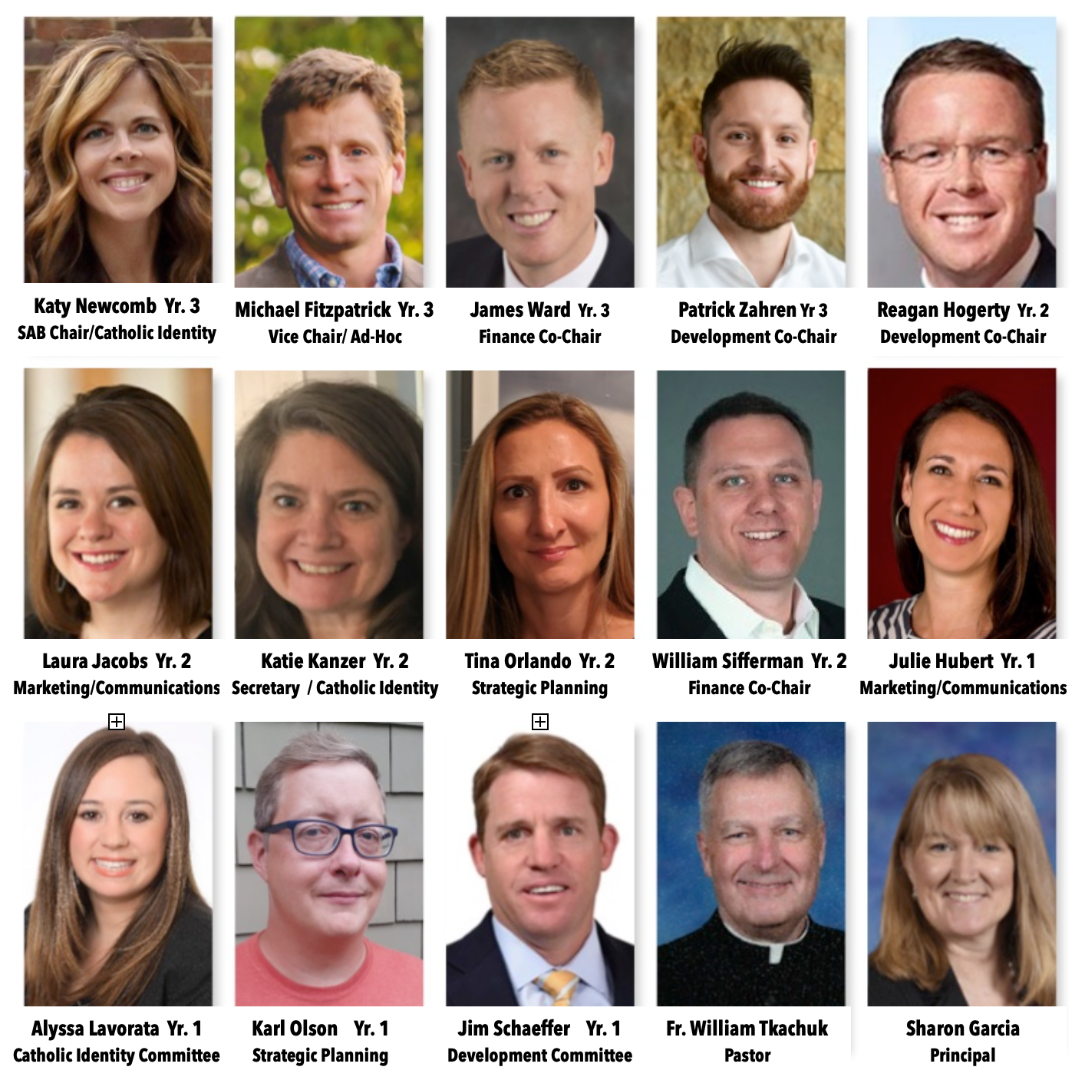 St. Francis Xavier School is fortunate to have an active School Board that works hard throughout the year on behalf of our school community. Visitors are welcome to attend open meetings the second Tuesday of each month in the courtyard room of the rectory, at 7 PM. Please notify Board Chairperson in advance if you will be attending a meeting. Contact: SchoolBoard@sfxlg.org
Click HERE for a video from the School Advisory Board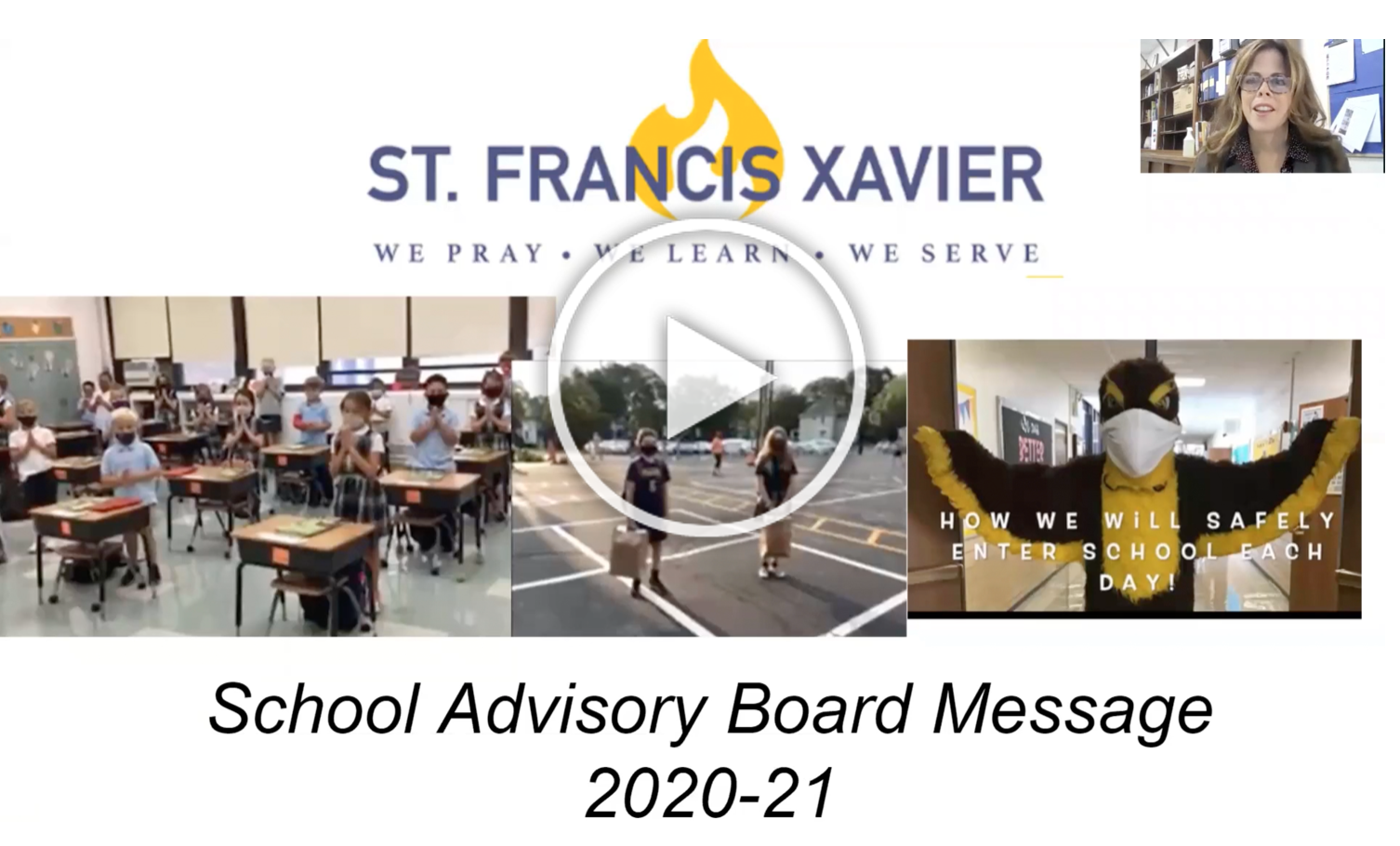 Until further notice, SAB meetings will be held virtually. Below please find the scheduled meetings:
Aug 13, 2020 07:00 PM
Sep 8, 2020 07:00 PM
Oct 13, 2020 07:00 PM
Nov 10, 2020 07:00 PM
Dec 8, 2020 07:00 PM
Please download and import the following iCalendar (.ics) files to your calendar system.
Monthly: https://us02web.zoom.us/meeting/tZUvfu6hpjMvGt1IorhV8XHDEz3UcALWtdnK/ics?icsToken=98tyKuGprDItE9ydtRmORpwcAIr4KPPxiFxYjbcMtRD3CxYLWivSE_gRB7FePO_E
Join Zoom Meeting
https://us02web.zoom.us/j/81297988509?pwd=aHpPZW00MkIySE44UFU4SWk1QWpuQT09
Meeting ID: 812 9798 8509 Passcode: 635580
Dial in +1 312 626 6799 US (Chicago)
SCHOOL BOARD RESPONSIBILITIES
to develop, formulate, and adopt policies which govern the operation of the School;

to hire and evaluate the Principal, in collaboration with the Pastor;

to review and advise on the annual budget and to determine sources of funding for the School;

to provide counsel and advise on the operation of the School;

to participate in the school's development, student recruitment efforts, and long-range plans;

to monitor the implementation of the recommendations of the St. Francis Strategic Plan;

to assist in obtaining the goals and objectives of the St. Francis Xavier School Mission Statement; and

to promote and publicize the School, supporting the School's public relations and marketing efforts.
SFX School Board Candidate Questionnaire
SFX School Advisory Board Bylaws
SFX School Advisory Board Constitution
SCHOOL ADVISORY BOARD STRUCTURE 2020 - 2021
The Board currently consists of twelve members who each serve a three-year term, with an optional bonus year. Each member is assigned to a Committee which develops and executes goals and objectives along with parent volunteers at-large. The Board Chairperson coordinates and leads overall Board efforts. Committees are focused around the school's strategic vision and include: Catholic Identity, Communications/Marketing, Development, Finance, Strategic Planning, and an Ad-Hoc Committee.
Pastor: Fr. Bill Tkachuk
Principal: Sharon Garcia
Chairperson: Katy Newcomb
Vice Chairperson: Michael Fitzpatrick
Secretary: Katie Kanzer

Catholic Identity Committee

The purpose of the Catholic Identity Committee is to work with the Principal to ensure that school programs and policies reflect the mission of the school: to provide students with academic excellence centered in the Catholic values of prayer, learning and service.

SAB Chair: Katie Kanzer

SAB Member: Alyssa Lavorata, Katy Newcomb

Sub-committee Members: Katie Justak, Mary Hoffman, Stacy McCarty, Maria McMahon, Katie Mulcahy


Strategic Planning Committee

The mission of the Strategic Planning Committee is to ensure that the goals and objectives set by the school Strategic Plan initiative are developed and revised as necessary and are met on a timely basis. This committee also looks to the future to anticipate what needs may arise and sets a clear plan and vision on how to meet those needs.

SAB Chair: Tina Orlando

SAB Member: Karl Olson

Sub-committee Members: Don Abbs, Janice Carr, Jaclyn Farley, Mary Hoffman, Margaret Houston, Mary Tassi & Jennifer Zeisloft

Development Committee

The mission of the Development Committee is to ensure the future of the school by encouraging diverse, long-term sources of school funding. The committee, in collaboration with the administration, develops relationships with alumni, parents of alumni, current parents, parishioners, and friends of the school. The committee also seeks funding through other sources, including grant writing, need-based student scholarship tuition assistance, and enrichment programs and activities. Additionally, the committee collaborates with the Board Finance Committee and parish Finance Council for planned giving and capital campaign initiatives.

SAB Chair: Pat Zahren & Reagan Hogerty

SAB Members: Jim Schaeffer

Sub-committee Members: Dave Becker, Mike Doyle, Katie Mulcahy & Jennifer Zeisloft

Marketing/Communications Committee

The mission of the Marketing and Communications Committee is to assist the school administration in sustaining and increasing enrollment at St. Francis Xavier Parish School. Through marketing, PR and internal communications initiatives, the committee strives to increase awareness and provide information for current families, new families, prospective families, and parishioners. This includes the school's offerings, daily happenings, and strategic plans. In collaboration with the Development Committee, alumni are also a target audience.

SAB Chair: Laura Jacobs

SAB Members: Julie Hubert

Sub-committee Members: Jill Grech, Mary Tassi & Bridget Weber

Finance Committee

The mission of the Finance Committee is to assist in the development of the annual budget for review by the full Board and assist in long-range financial planning for the school.

SAB Co-Chairs: James Ward & Bill Sifferman

Sub-committee Members: Jennifer Zeisloft

Ad Hoc Committees

The Board chairperson may form ad hoc committees to meet a specific objective at a given time. Ad hoc committee members are selected because they are knowledgeable, service-oriented and possess expertise needed by the Board.

SAB Chair: Michael Fitzpatrick

Sub-committee Members: Mike Doyle & Katie Mulcahy