SFX eLEARNING NEWS & ANNOUNCEMENTS

Dear Parents and Students, Every effort is being made for thoughtful, timely communication through email and multiple social media channels. The health, safety, academic, emotional and spiritual welfare of each and every student and family at St. Francis Xavier School is our priority. To this end, below, you will find links to announcements and updates throughout the mandated school closures. Wishing you peace and health as we work though this together. CLICK HERE to read our eLearning overview.


Prospective families, we would be very happy to provide you with more information! Open enrollment continues during the mandated school closure. Please CLICK HERE TO SUBMIT A PROSPECTIVE FAMILY INTEREST FORM. Questions? Please email Advancement Director, Mary Tassi, mtassi@sfxlg.org.

eLEARNING PARENT RESOURCES

Khan Academy Scholastic Storyline Online Sesame Street PBS Kids Unicef Kid Power Brain Break Ideas Kid Yoga Stories Holy Heroes Mrs. Filbin's Podcast Michelle Obama story time Chicago Catholic Schools YouTube Channel National Geographic at Home
eLEARNING ALL-SCHOOL ANNOUNCEMENT LINKS
CURRENT eLEARNING ALL-SCHOOL ANNOUNCEMENTS
Morning Announcement - 5/26/2020

ARCHIVED eLEARNING ALL-SCHOOL ANNOUNCEMENTS
CLICK HERE to access archived eLearning All-School Announcements

SFX FAMILY CONNECT ACTIVITY VIDEOS
Families at St. Francis Xavier School have been connecting in a special way during eLearning. Optional Family Connect Activities have brought smiles and comfort to SFX students, families and our community. Please click on the links below to see the fun ways that we are staying connected!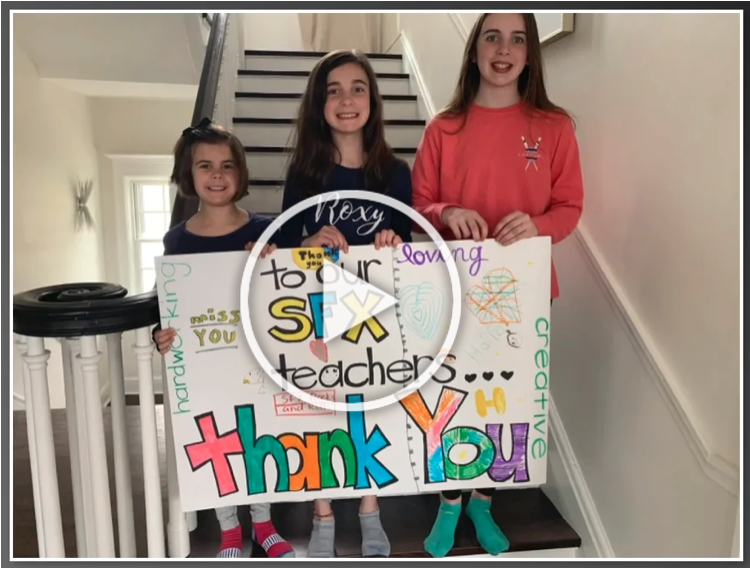 Sports Day!
Throwback Thursday Class of 2020
From the Students: Gratitude & Love to Our Teachers & Staff
From the Teachers: We Miss Our SFX Students and Families!
3-30 Lenten Prayer Service Video
Thank You to Doctors, Nurses, Hospital Staff & First Responders
What Are You Reading Wednesday
TBT - Throwback Thursday is all about our 8th Graders!
2020 Leprechaun Trap Challenge!