Academic excellence centered in the Catholic values of Prayer, Learning and Service. Masks are optional as of February 14, 2022. All other mitigation protocols remain in place. We will continue to practice social distancing to the best of our ability.
PROSPECTIVE FAMILIES

PROSPECTIVE FAMILIES - MAY WE PROVIDE YOU WITH MORE INFORMATION ON OUR SCHOOL? Click on the link below. We will follow up with a digital Prospective Family Information Folder, and answers to your questions. We understand what an important decision this is. Our Advancement Director is here to help you every step of the way! Questions? Please email enrollment@sfxlg.org
OPEN ENROLLMENT: Open Enrollment for families who are NEW to SFX School for 2022-2023 has begun! Please click on the link and we will contact you with information on our Blue Ribbon School and enrollment information.

WAITLIST: At this time, enrollment in "Pre-Kindergarten (PreK4)" for the 2022-2023 school year has reached capacity. You are, however, invited to join a waitlist!
VIRTUAL SCHOOL TOUR

Experience the vibrant and engaging community of St. Francis Xavier School, LaGrange, IL, where FAITH, ACADEMIC EXCELLENCE, and SERVICE blend to develop each child's potential; PreSchool through 8th grade. We welcome you to see our Falcon Pride in our SFX VIRTUAL SCHOOL TOUR. "We Pray, We Learn, We Serve, We Play"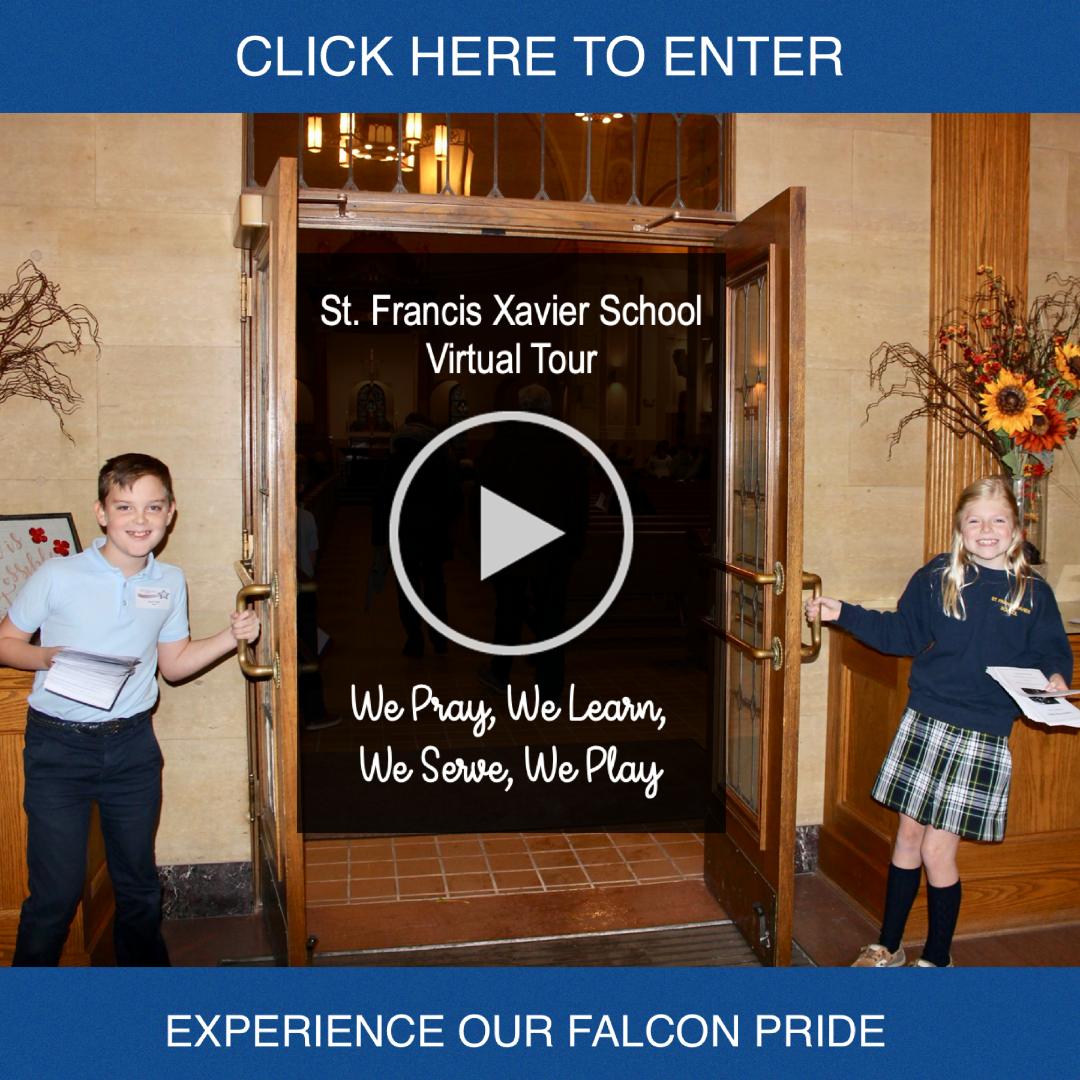 TWO TIME RECIPIENT - US DEPT OF EDUCATION "EXEMPLARY HIGH PERFORMING NATIONAL BLUE RIBBON SCHOOL"
For the second time, the United States Department of Education has recognized St Francis Xavier School, LaGrange IL as an EXEMPLARY HIGH PERFORMING NATIONAL BLUE RIBBON SCHOOL! Click on the following links to hear what area educational and community leaders have to say about St. Francis Xavier School: Archdiocese of Chicago, Superintendent of Catholic Schools, Nazareth Academy, Benet Academy, Lyons Township High School, Congressman Daniel Lipinski, Fenwick High School, LaGrange, IL Village President. We encourage you to familiarize yourself with our school by liking and following current and past social media posts on Instagram @SFX.LG_SCHOOL, and Facebook https://www.facebook.com/SFX.LG/
ANNUAL ST. FRANCIS XAVIER ALL-SCHOOL SERVICE DAY Established in 2007 by a group of dedicated parent volunteers, our all-school Service Program exemplifies who we are as a school. Throughout the school year, each grade has a service theme on which to focus its PRAYER, EDUCATION, ACTION and . . .