CURRENT FAMILIES
SFX PARENTS, Please CLICK HERE for the Parent Newsletter - SUMMER EDITION 07/14/2021. TAKE A BREAK AND PLEASE READ THIS SUMMER NEWSLETTER, CHOCK FULL OF USEFUL INFORMATION!

MOST RECENT 21-22 REOPENING INFORMATION

Dear School Families:

Thank you for your partnership over the past year and a half and your commitment to providing your children with a Catholic education. Looking ahead, we want to share with you anticipated safety protocols and operational guidance for the upcoming academic year.

Protecting the health and safety of our students and school staff while providing them with an excellent, in-person academic experience remain our priorities. Based on the guidance of the Centers for Disease Control and Prevention (CDC), the Illinois Department of Public Health (IDPH), consultation from our team of medical advisors, and our Archdiocesan COVID-19 Task Force, we plan a return to near-normal, pre-pandemic school operations while maintaining select safety protocols to ensure a healthy, in-person learning environment. While there remains the potential for some adjustments considering the growing prevalence of the delta variant and stalled vaccination rates, please note the following:

Returning to full pre-pandemic, near-normal operations
School Masses will resume.
There will no longer be cohorts; however, every classroom will maintain an assigned seating chart since any necessary quarantines will be limited to only the students in closest proximity to any COVID-positive student (i.e., fellow students seated in front, back, left or right).
All extracurricular activities, athletics, theater, music, clubs, field trips, etc., will resume.
Resuming before- and after-care programs.
Library and computer labs will reopen.
Wellness checks or staggered drop-off/pick-up schedules will no longer be required.
No masks will be required for fully vaccinated students, teachers or staff. Guidance regarding masks for unvaccinated individuals will be released by early August.

Safety protocols for the 2021-2022 school year
Students who are ill or are experiencing COVID-19-like symptoms MUST stay home.
We will follow prevailing local health department guidelines concerning quarantines.
Classrooms and activities will be arranged to maintain 3 feet of physical distancing indoors whenever possible.
Schools will maintain daily cleaning procedures for desks and high traffic areas.
Students and staff will be encouraged to sanitize hands upon arrival to the classroom and throughout the day as a good hygiene practice, and to use water bottles instead of drinking directly from water fountains.
Lastly, providing proof of vaccination will be extremely helpful for contact tracing purposes and to ensure that vaccinated students, if exposed, are not included in any quarantine requirements.

Any student without a COVID-19 vaccination card on file, who is determined to be a close contact, will immediately quarantined until proof of vaccination is received. Your school's leadership will provide more information about this in the coming weeks. Vaccination information will be kept confidential as with all other student records and medical history.

Again, we expect to have a final determination on the use of masks for unvaccinated individuals by early August. We will re-assess these guidelines, as necessary, during the academic year to ensure safe operations of our schools. For the sake of everyone's health and our collective ability to fully overcome the COVID-19 virus, we will continue to encourage vaccinations for faculty, staff and students over the age of 12.

We wish you all a safe and restful summer,

Office of Catholic Schools Archdiocesan COVID-19 Task Force

PROSPECTIVE FAMILIES

MAY WE PROVIDE YOU WITH MORE INFORMATION ON OUR SCHOOL? We will follow up with a digital Prospective Family Information Folder, and answers to your questions. We understand what an important decision this is. Our Advancement Director is here to help you every step of the way! Questions? Please email Advancement Director, Mary Tassi: enrollment@sfxlg.org.

AVAILABILITY: Currently, we have a short waitlist for the 2021-2022 school year in the following grades:
Pre School 3, 2nd Grade and 3rd Grade. Please contact enrollment@sfxlg.org for information on how to join the waitlist in those grades.
VIRTUAL SCHOOL TOUR

Experience the vibrant and engaging community of St. Francis Xavier School, LaGrange, IL, where FAITH, ACADEMIC EXCELLENCE, and SERVICE blend to develop each child's potential; PreSchool through 8th grade. We welcome you to see our Falcon Pride in our SFX VIRTUAL SCHOOL TOUR. "We Pray, We Learn, We Serve, We Play"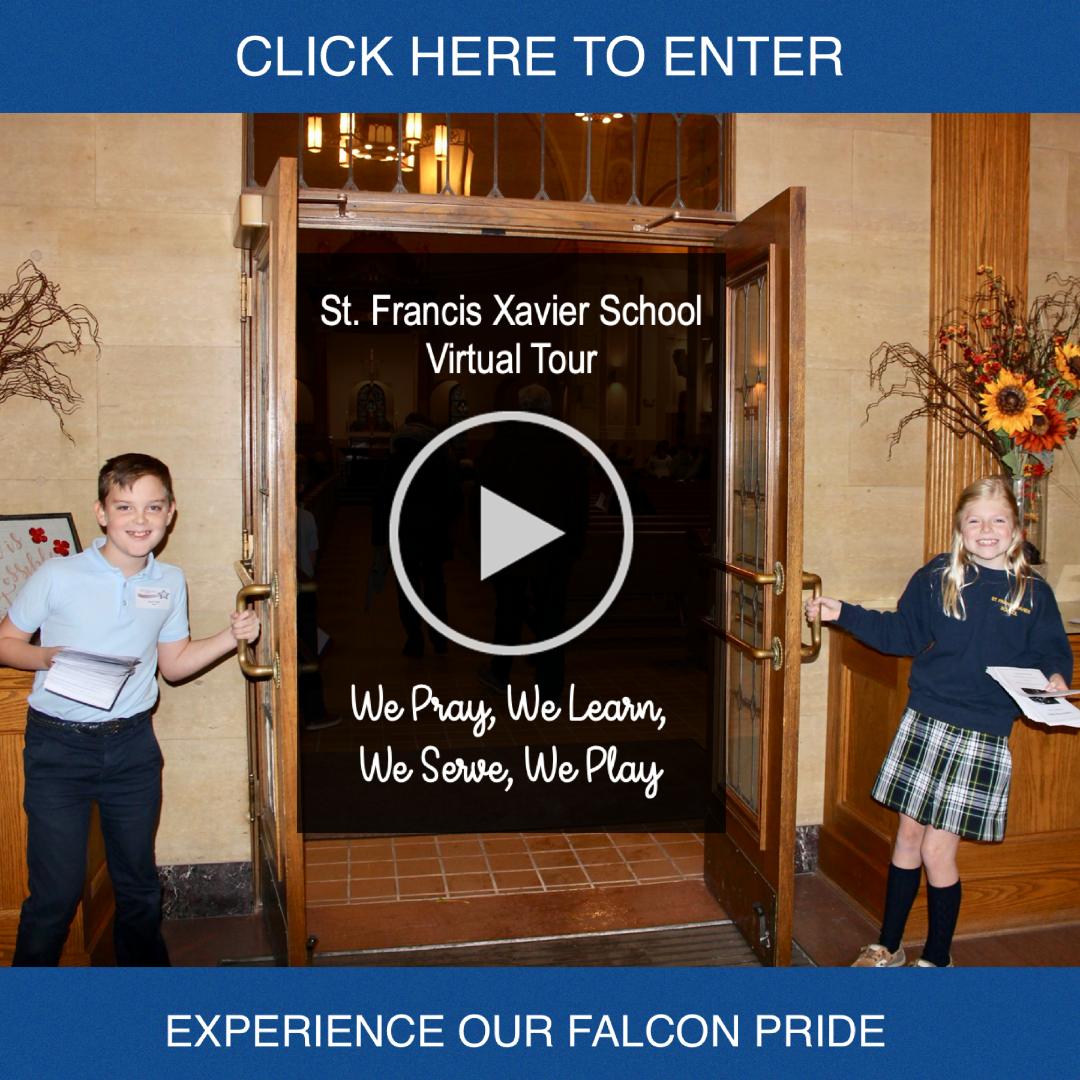 TWO TIME RECIPIENT - US DEPT OF EDUCATION "EXEMPLARY HIGH PERFORMING NATIONAL BLUE RIBBON SCHOOL"
For the second time, the United States Department of Education has recognized St Francis Xavier School, LaGrange IL as an EXEMPLARY HIGH PERFORMING NATIONAL BLUE RIBBON SCHOOL! Click on the following links to hear what area educational and community leaders have to say about St. Francis Xavier School: Archdiocese of Chicago, Superintendent of Catholic Schools, Nazareth Academy, Benet Academy, Lyons Township High School, Congressman Daniel Lipinski, Fenwick High School, LaGrange, IL Village President. We encourage you to familiarize yourself with our school by liking and following current and past social media posts on Instagram @SFX.LG_SCHOOL, and Facebook https://www.facebook.com/SFX.LG/

THE 2020-2021 SCHOOL YEAR AT ST. FRANCIS XAVIER SCHOOL, LAGRANGE, IL
CLICK HERE for SFX 2020-2021 Reopening Plan (Updated January 2021)
ANNUAL ST. FRANCIS XAVIER ALL-SCHOOL SERVICE DAY Established in 2007 by a group of dedicated parent volunteers, our all-school Service Program exemplifies who we are as a school. Throughout the school year, each grade has a service theme on which to focus its PRAYER, EDUCATION, ACTION and . . .