FSA - Family & School Association
THE SUPPORTIVE LINK BETWEEN FAMILIES & SCHOOL
The Family & School Association (FSA) is a parent organization whose goal is to help advance the Catholic education of our children and to promote the spirit of St. Francis Xavier School by providing a supportive link between families and SFX school. The FSA achieves this goal by sponsoring educational and recreational events for school families. The FSA is funded through an annual fee, which is collected at the beginning of each school year. All funds earned in excess of the FSA budget are given directly to the school to benefit our children. The Family & School Association Board currently consists of seven parents that co-share the officer positions of the association. Each serves a two-year term.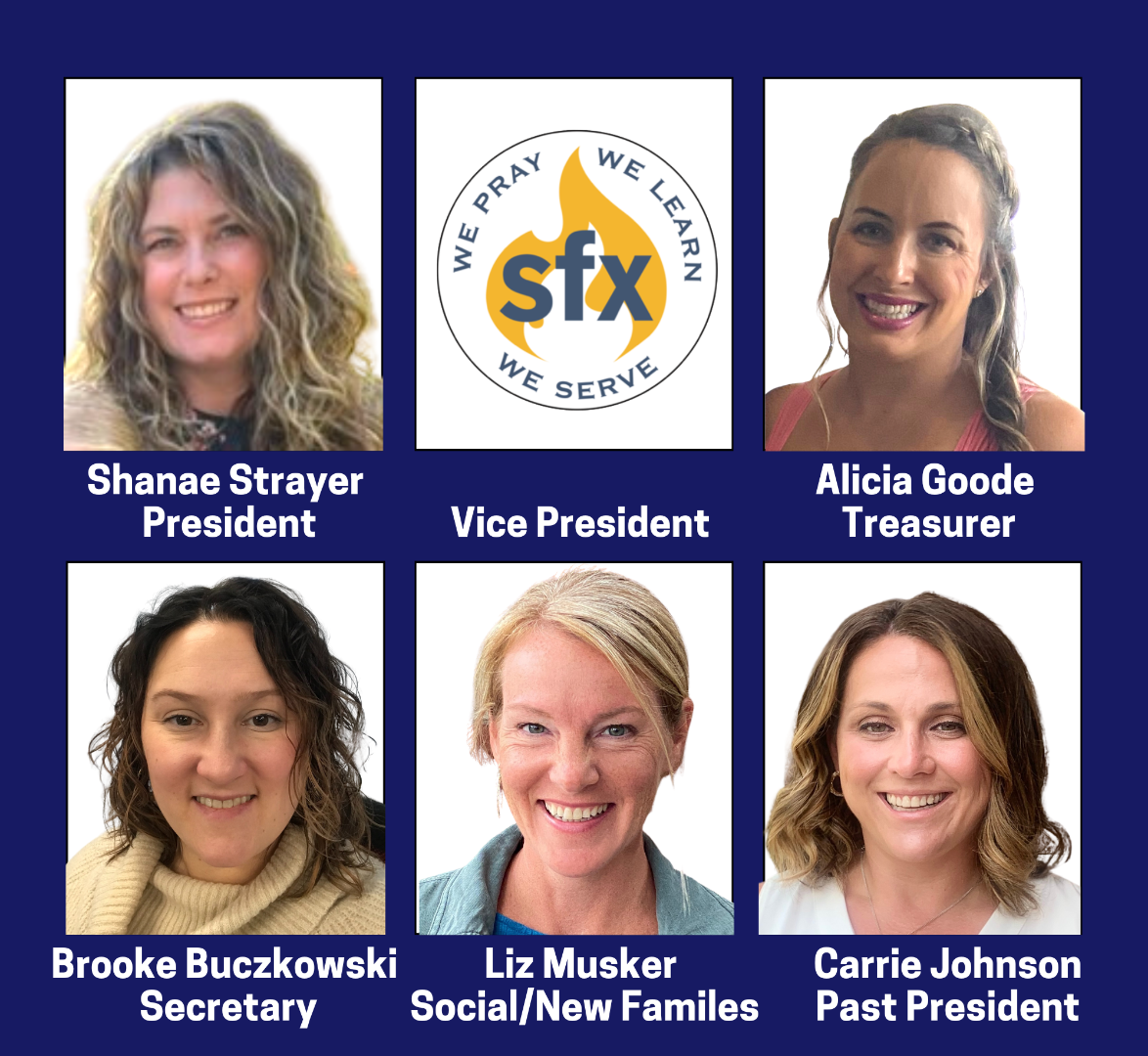 Email address: FSAboard@sfxlg.org
2023-2024
President: Shanae Strayer
Vice President: TBD
Treasurer: Alicia Goode
Secretary: Brooke Buczkowski
Social / New Families: Liz Musker
Past President: Carrie Johnson
2022-2023
President: Carrie Johnson
Vice President: Shanae Strayer
Treasurer: Alicia Goode
Secretary: Denise Gonzalez
Social / New Families: Liz Musker
Past President: Emily Bersnak
SPONSORS OF EDUCATIONAL & RECREATIONAL EVENTS FOR ST. FRANCIS XAVIER SCHOOL FAMILIES
Some examples are:
ART SMART
GRADES 4-6 SOCIAL
SCHOOL PICTURE HELPERS
Ignite Benefit (formerly SFX Auction)VOLUNTEERS
GRADES 7-8 SOCIAL
SCHOOL SUPPLIES
BOOK FAIR
HAUNTED HOUSE
SCIENCE CENTER
BOX TOPS FOR EDUCATION
HOSPITALITY
SERVICE DAY
CHILDREN'S LITURGY
HOSTING NEW FAMILIES
SHOP FOR SFX
CLASSROOM ROOM PARENTS
ICE CREAM SOCIAL
SPEAKER/AUTHOR EVENT
CLASSROOM SERVICE PARENTS
JUNIOR GREAT BOOKS
SPIRIT WEAR LIAISON
FIELD TRIP PARENTS
MEDICAL FORMS
SUNSHINE PARENTS
EIGHTH GRADE FUNDRAISING
MOTHER/SON EVENT

TALENT SHOW/PLAY

FALCON 5K VOLUNTEERS
UNIFORM GRAB 'N GO
FAMILY EVENTS
ORIGINAL WORKS
VISION & HEARING
GARDENING
RESTAURANT FUNDRAISING

YEARBOOK

GOLF OUTING VOLUNTEERS
SCHOLARSHIPS
JUNIOR FALCON CLUB
OVER 200 PARENT VOLUNTEERS * BUILDING A COMMUNITY OF FAMILIES AND FRIENDS

The FSA works best when all school parents support the organization. The gifts of your time and energy as well as your participation in the FSA sponsored events enable the FSA to function well for the benefit of the school and our students. We are comprised of a Board of five people, almost 40 different committees, and over 200 volunteers. All SFX school families are members of FSA. The FSA supports many committees throughout the SFX school community from enrichment programs that enhance curriculum to socials that occur after school hours for students and families to come together and have fun.
All of our committees are run by parent volunteers: whatever your talents are, there is a spot for you! Volunteering is a terrific way to familiarize yourself with the school and to meet other parents. Thank you to all of our wonderful, spirited volunteers!
* All volunteers who come in direct contact with students must complete the "VIRTUS; Protecting God's Children" training program.
Spring - Volunteer Sign-up for next year's School Wide Events
This online Volunteer sign-up is for volunteer opportunities for the upcoming school year that are not classroom specific. A sign-up goes out toward the end of the school year. There you will be able to select the SFX Parent Volunteer Opportunities Sign-Up. Through the link you can sign up for as many volunteer opportunities as you see fitting into your schedule. There are things for people to do that are entirely on your own time. Browse through the categories and see which ones are calling your name!
August - Grade Level Leadership Volunteer Sign-up
After class lists are available in August, this on-line volunteer sign-up will be sent out for Room Parent, Art Smart, or Service volunteers for your child's specific class. (Please note that room parents primarily assign roles and send reminder emails for a volunteer list created with the teacher's help. This could be a good fit for working parents or those staying home with small children.)
August - Classroom Volunteer Sign-Up
Volunteer on-line sign-up for class parties, field trips, and service projects.
November - Service Day Volunteer Sign-up
In the fall, you will receive a separate Volunteer Spot Sign-Up for the SFX Service Day.
There are many ways for parents to be involved! We hope that you will find the right fit for you and your family. Thank you for making SFX such a terrific school and community!If you would like more details about any specific volunteer opportunity, please don't hesitate to reach out to FSA. We will help you find the answer or the right person to answer your questions!
* Please note: All volunteers who interact with children must be fully compliant with the "Protecting God's Children" program.
Thank you ALL for promoting the spirit of St. Francis Xavier School by providing a supportive link between families and SFX school!