School Hours, Drop-Off & Pick-Up Procedures
SCHOOL ARRIVAL & DISMISSAL DOORS AND TIMES
ARRIVAL TIME
Please do not drop your students off before 7:50 am when supervision begins.

Before school, there are supervisors on the playground beginning at 7:50 am.

After school, there will be 2 teachers outside for supervision.

Please discuss with your child to either stay on the playground until they see you or designate a meeting place.

All students remaining on the playground 10 minutes after the bell will be brought to the office
CLICK HERE for printable pdf : ARRIVAL AND DISMISSAL DOORS & TIMES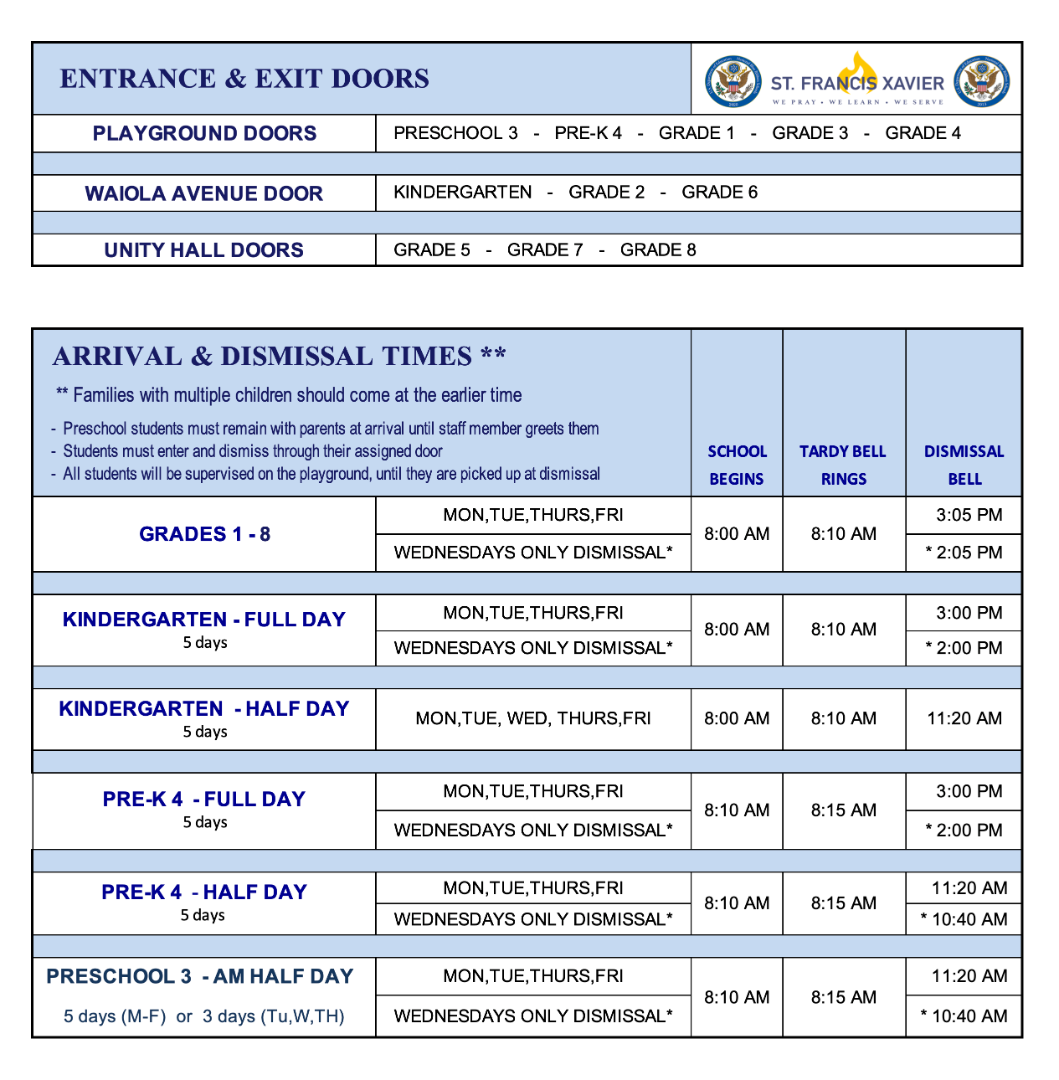 ARRIVAL & DISMISSAL - DOORS & TRAFFIC SAFETY PROCEDURE

CLICK HERE for printable pdf: TRAFFIC MAP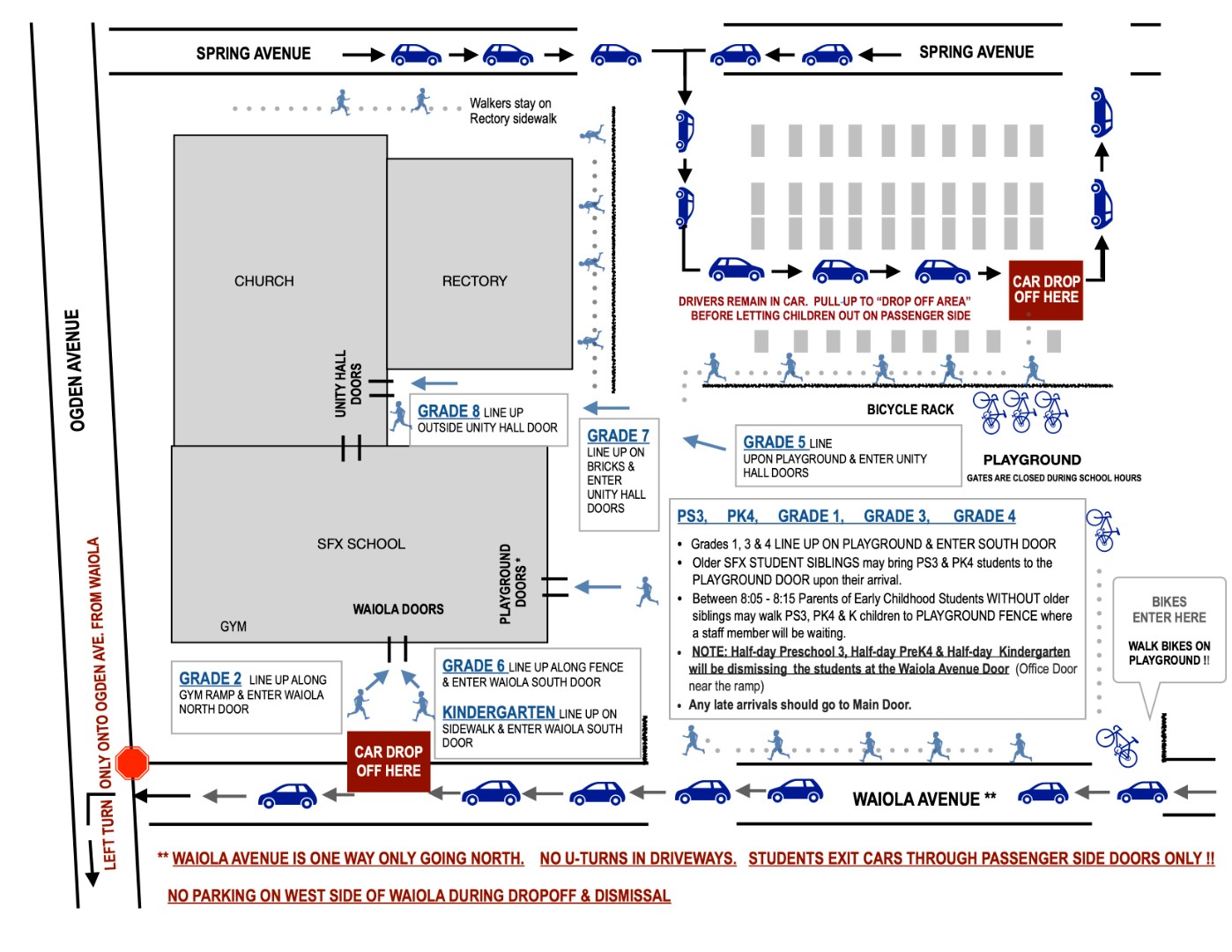 STUDENTS EXITING A VEHICLE
Whether students are being dropped off on Waiola or by the Rectory, they should leave the car on the side closest to the school. It is important that parents remain in the car and children are ready to get out of the car quickly. When dropping students off, pull as far forward as possible on Waiola or in the Rectory parking lot so that many students can exit their cars at the same time.
Rectory Lot: Students should be dropped off in the line and not along the Rectory sidewalk.
On Waiola: Students should be dropped off along the curb in front of the school only, not on the snow hills, the grass or from the middle lane. That is unsafe when traffic starts moving.

GENERAL TRAFFIC SAFETY PROCEDURES
Parents should never double-park to pick up students.

SLOW DOWN !!!

No cell phones should be used in the school zone.

Parents remain in cars and have your child ready so that drop off can be done quickly.

Those who enter the building during school hours may park in the Rectory parking lot.

Please remember, if you are parking and walking to school, or parking and waiting for your student, the law requires that you park 20 feet from the crosswalk and 30 feet from the stop sign.

It is VERY important that everyone respects each other and follows our traffic pattern.
WAIOLA TRAFFIC - NORTHBOUND ONLY
It is EXTREMELY important that everyone cooperates and lets a car in when they are trying to pull away from the curb. If everyone lets one or two cars in, traffic flow will be much quicker. It gets a little congested when the traffic light on Ogden is red, but traffic will flow when it turns green.
Everyone must turn LEFT on Ogden from Waiola.
Waiola is ONE WAY during arrival and dismissal.

Traffic is NORTHBOUND ONLY on Waiola Ave.

Cars may NOT enter Waiola Ave. from Ogden Ave.

U-turns in our neighbors' driveways are NOT allowed. PLEASE

Obey No U turn signs!

After school parents need to designate a spot, parents should not leave their cars if on Waiola, between Bell and Ogden.

No Parking on Waiola, Bell to Ogden, unless you are picking up a sick child.

When picking up a sick child, to allow room for emergency vehicles, please do not park directly in front of the school doors.
LaGrange Police have informed us they will issue tickets for parking violations, which include leaving cars parked on Waiola

Ave. between Bell Ave. And Ogden Ave.



SPRING AVENUE & CHURCH LOT TRAFFIC
When dropping off in church lot, pull up as far as possible before stopping to drop students off, EVEN IF YOU ARE THE ONLY ONE THERE! Cars pulling up after you cause a traffic jam on Spring Avenue.

Students entering from Spring Ave should use the sidewalk by the Rectory to get to playground



BICYCLE SAFETY
Students should walk to the fence and follow the walkway

Students on bicycles must enter the playground from the Waiola side.

Bicycles should be locked up daily
Safety is our #1 PRIORITY! THANK YOU for respecting the rules and having patience!