Advent 2020
Advent is a time of waiting, a time of preparation. This year, the world may feel particularly "dark" during the COVID-19 pandemic. For that reason, we wait and prepare our hearts and homes all the more eagerly and joyfully for the birth of Jesus, Light of the World, at Christmas!
Here are a few resources for preparing your hearts and homes this Advent season.
Click here to sign up for daily Advent reflection videos by Black Catholic speakers through Redeemed Online.
Click here to learn more about our Advent Study on the first 18 verses of the Gospel of John.
Click here for the "When They Saw the Star" Advent retreat series online through Loyola Chicago.
---
Intentional Living During Advent
All throughout Advent, you can participate in the following activities to prepare your hearts and homes:
Cut some evergreen branches, buy dollar-store candles, and make your own Advent wreath! See resources below for more info on Advent wreaths.
De-clutter toys or other items that you no longer use; donate for someone else to enjoy. This is a great physical practice of "creating space" in our hearts and homes for the arrival of Jesus at Christmas!
Practice an Advent "Secret Santa" among family members: draw a random name and pray for/do good deeds for that family member all through Advent. On Christmas morning, gift them a homemade gift and reveal who has been praying for and secretly making your bed, doing your dishes, or leaving you special notes all season!
Liturgical Calendar: Here are some ideas of how to celebrate/practice Advent on special days of the season!
(Updated as we progress through Advent, Nov - Dec)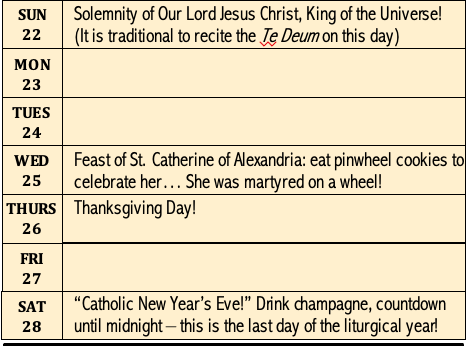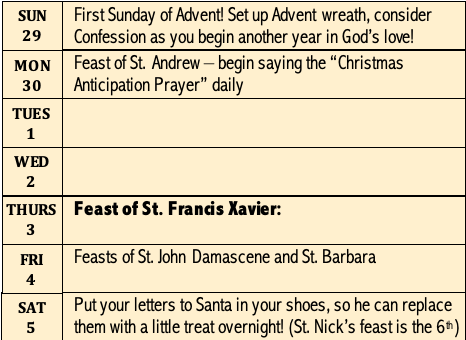 ---
Prayers/Resources for Advent
Te Deum Prayer - typically prayed on the Solemnity of Our Lord Jesus Christ, King of the Universe! (Nov 22, this year)
St. Andrew "Christmas Anticipation" Prayer - traditionally prayed 15 times a day, beginning on the Feast of St. Andrew and culminating at Christmas. But if you can only do it once, that's just as wonderful!
Advent Wreath! (How to make an Advent Wreath, What is an Advent Wreath?)